Carbon Black Content Apparatus Manufacturer and Supplier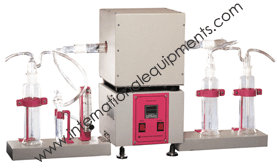 as per ASTM D 1603, IS 4984 and IS 2530 to determine carbon black content of plastics.
Specification:
Size of furnace : 10 inch x 8 inch x 8 inch.
Material of construction: M.S.
Temperature range : Ambient to 1150 ºC

Accessories :
Desiccators, Glass U tube, Combustion tube, Combustion boat, Rotometer, Rubber tube [1 no. each],
Glass end caps – 2 nos. and Glass traps – 3 nos.
Paint : Powder coated.
Power : 230 V 50Hz, single phase..
* Equipment with other capacities could also be supplied as per the requirement.